Volunteer Zoe Nisbet
Malawi 2001-2002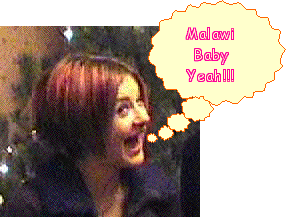 You can help me achieve my aim of helping the children in the Lady Bird School in Blantyre, Malawi for a year. Please click on the following links and find out how. . .
Who am I?
About Project Trust
About Malawi
Current Projects in Malawi
Can you help me?
Here's how to help
My fund-raising Diary
And I would like to thank ...
Some Malawi Volunteer links